Congratulations Dr. Hendizadeh for being ranked
# 1 in CT & NY and as of 2014, 2015, 2016 and 2017 # 1 in the Country!
New York College of Podiatric Medicine
New York, New York
Degree: Doctor of Podiatric Medicine
Graduated in top twenty percent
NBPME Parts I and II passed 9/94-6/98
University of Connecticut
Storrs, Connecticut
Degree: Bachelor of Science in Molecular and Cell Biology University of Connecticut Honors Scholar
Graduated cum laude
Post-Doctoral Training
Kern Hospital and Medical Center-Home to the Oldest Podiatric Surgical Training Program in the United States
Warren, Michigan
Two-year Podiatric Surgical Residency.
Rotations in Internal Medicine, Infectious Disease, Emergency Medicine, Plastic Surgery, Vascular Surgery, General Surgery, Pathology, Radiology, & Anesthesiology
Overseas Surgical Exchange Program, London, England
Comprehensive training in lower extremity diabetic treatment
Certified in Basic and Advanced Cardiac Life Support
PM Lexis Passed 6/98 Passed
Board Qualification Exam 6/00 6/98-6/00
Hospital Staff
NorthShore LIJ
Huntington Hospital
ProHealth Day Op Surgicare
Northwell Health Systems
We are pleased to announce that Dr. Hendizadeh is now on staff at St. Francis Hospital. We look forward to providing the same great care to patients of the Catholic Health System.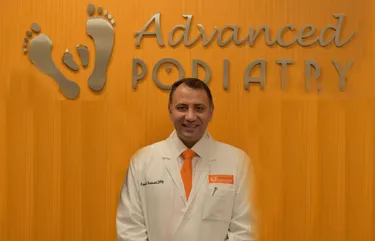 Certifications
Instructional Experience/Lectures
Kern Hospital Resident Lecture Series 7/98-6/00
Building a Podopediactric Practice
Ankle Fractures
Lower Extremity Anatomy
Geriatric Hallux Abducto Valgus Deformity
Management of Clubfoot Deformity
Civic/Kern Resident Alumni Association, 2000 CHRAA Surgical Seminar
Management of Diabetic Infection with Charcot Complication
Grace Hospital-Detroit, MI
Diabetes Connection-Risk Management of the Diabetic Foot
Management of Foot Infections in the Diabetic Patient
Research/Publications
Currently being reviewed by JAPMA: "Homocysteine Levels: A new marker for Peripheral Vascular Disease"
Submitted for Publication: "Pressure Reduction in the Diabetic Foot"
Publication: "Peripheral Vasospastic Conditions of the Raynaud Type," Podiatric Medical Review. Volume 2 Issue 2, Fall 96
Research Assistant to Dr. Challa V. Kumar at the University of Connecticut Department of Chemistry, Thesis is written on "The Study of DNA Probes binding with Calf Thymus DNA." Ran experiments using HPLC, GC, Fluorescence and Absorption Spectrometry
Articles in Image Magazine
Awards and Honors
NYCPM Presidential Scholarship Award 97-98
J.T. Tai Foundation Scholarship recipient 97-98
NYCPM Academic Scholarship recipient 94-95, 95-96, 96-97, & 97-98
American Podiatric Medical Association Fund for Podiatric Medical Education Scholarship recipient 96-97, 97-98
Positions
Private Practice at Associated Podiatrists of Fairfield July 2000 to July 2015, Fairfield, CT
Private Practice at Orthopedic Surgery and Sports Medicine Feb 2005 to Feb 2015, Stamford, CT
Past President, Fairfield County Podiatric Medical Association
Past VP, Fairfield County Podiatric Medical Association
Hospital Affiliations
North Shore/Long Island Jewish Medical Center
Huntington Hospital
Prohealth Day Op Surgicare
Melville Surgery Center
Hillside Surgicare
* BOARD CERTIFIED IN FOOT SURGERY BY THE AMERICAN BOARD OF PODIATRIC SURGERY
Dr. Hendizadeh's Publications
Dr. Pedram Hendizadeh
Patient's Guide
Platinum Member
PinPointe Specialist Cynosure's Pinpointe Laser is one of the best nail fungus treatments available. Cynosure is known for making quality lasers, treating conditions from cellulite to unwanted body hair.
Patient Testimonials