Education:
New York College of Podiatric Medicine.
New York, New York
Degree: Doctor of Podiatric Medicine (7/2007-6/2011)
New York University Tandon School of Engineering.
Brooklyn, New York
Degrees: Bachelor of Science in Chemistry
Master of Science in Biomedical Engineering
Post-Doctoral Training
St. Barnabas Hospital
Level 1 Trauma Center
Bronx, New York
Podiatric Medicine & Surgical Residency with Rearfoot & Ankle Certification (PMSR+RRA)
Four Year Surgical Residency with extensive surgical exposure to rearfoot and ankle trauma in addition to general Orthopaedic trauma
Chief Resident for both Podiatry and Orthopaedic Departments (6/2015-6/2016)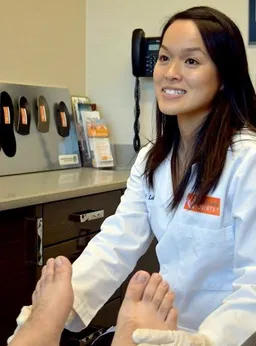 Rotations in: Internal Medicine, Endocrinology, Pathology, Infectious Disease, Vascular Surgery, Radiology, Anesthesiology, Emergency Medicine, and Psychiatry.
Comprehensive training in diabetic wound care and recalcitrant wounds at the Center for Wound Healing and Hyperbaric Medicine at St. Barnabas Hospital.
Certified by the American Heart Association in Basic Life Support (BLS) and Advanced Cardiovascular Life Support (ACLS)
Presentations:
Deep Posterior Calf Abscess Resulting from a Cat Scratch; A Unique Abscess Presentation (1st Place Department of Surgery, Resident Research Day)
Richard Bauer DPM; Eli Eisenberger, DPM; Quynh Lee, DPM; Emilio Goez, DPM.
May 2014
St. Barnabas Hospital, Bronx, New York
Foot & Ankle Trauma at a Level 1 Trauma Center: A Case Series Presentation
New York Podiatric Clinical Conference
January 2014
New York, New York
Orthopedic Trauma Rounds
Monthly Trauma Conference